There are activities that we perform every day. These daily activities are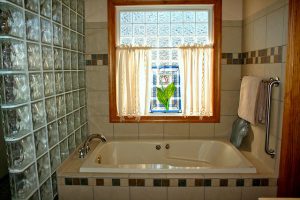 often referred to as activities of daily living and include feeding, toileting, dressing, transferring, walking, bathing and grooming. We usually complete these activities without even having to think about it. However, each of these activities can be challenging for the elderly.
How often is too often?
It's likely that the older adult didn't take daily baths growing up.  For most people, two to three baths a week is sufficient. The older adult may have decreased activity levels, and therefore require fewer baths. Good hygiene is still important, however. Keeping skin clean prevents odor, urinary tract infections, rashes, skin irritation and skin diseases.
While bathing is not necessary every day, I do recommend washing the face, hands, underarms and groin daily. You can do a sponge bath of these areas while they are sitting on the toilet or lying in bed.
While there is no right answer for all seniors, being prepared is the key to success when it comes to bathing!
Prepare for Resistance
Bathing the elderly is a task that can be difficult and can be made more complicated by dementia. Confusion may cause your parent to think that she has already taken a bath today. Or, she might be resistant to bathing because she is afraid of the water or afraid of falling. For someone with Alzheimer's dementia, the feeling of water falling on them in the shower can lead to sensory overload.
Embarrassment may also be a factor in resisting bathing. Seniors were raised to be modest. Asking them to take their clothes off in front of us can violate that modesty. We must maintain their dignity during the bathing process. They may be more comfortable and therefore more cooperative with a home health aide bathing them.
Prepare for Safety
The bathroom can be a dangerous place. There are more accidents happening in the bathroom than in any other room in the house. Safety must be a priority. Many older adults have difficulty with vision, so before bathing, check to be sure lighting is adequate.
Using an in-the-tub mat with a suction base can decrease the risk of slipping in the tub. These mats are usually more effective than the non-slip stickers that you can apply to the bottom of the tub. A non-slip area rug beside the tub may be helpful.
The older adult may tire easily, experience shortness of breath, or have difficulty standing when bathing or showering. For this reason, shower chairs or benches are useful devices. A hand-held shower head is helpful for rinsing, especially when seated. Grab bars on the wall, as well as safety handles on the tub, can provide a sense of security and give stability during transferring in and out of the tub or shower.
Prepare for Chaos
As with everything else in life, the bath process may not go according to plans. You might have planned for baths on Monday and Thursday, but it's Tuesday, and mom woke up wet and needs a bath today. Not every day is a good day – for you or your family member. Be flexible. Save bathing for days when mom is more alert, has more energy, or is more agreeable. She may not want to bathe today, but you might be able to encourage her by having her get ready for a favorite activity. If she likes going out to lunch, tell her she needs to get her bath and get dressed to go out. You may have to be creative. You must be flexible.
Prepare the Environment
The older adult gets chilled easily, so be sure the bathroom is warm before bathing. Turn off the television and leave your cell phone in the other room. Remove any other noise and distractions.
If bathing, you probably only need about two to three inches of water in the tub. The water temperature should not be over about 100 degrees. If the water is too hot, it can burn the skin, but it can also dilate blood vessels, drop blood pressure, and cause dizziness or fainting. They should not stay in the tub more than about 20 minutes because longer than that can cause fatigue and dry skin.
If showering, check water temperature on the inside of your wrist and let them feel water temperature on their hand before allowing the water to wash over the body.
Prepare Supplies
Be sure to gather all the supplies you will need for bathing before getting started. It's easier if you have the supplies set up in the order that you will need them. You will want a mild liquid soap with moisturizers, a soft washcloth or sponge, towels, and any clothing they will wear. A bath blanket is helpful to prevent chilling after the shower or bath.
Prepare Yourself
As I mentioned above, you want to choose a good day for both of you. Calm yourself before getting started. Think of fun topics to talk about during the bath. The process of bathing will take time. Allow for unanticipated delays. Don't try to rush; this will only increase the risk of injury and increase the stress level for everyone involved.
Remember that the person with dementia or physical problems is not trying to be difficult, they are sick and are doing the best they can. Try to make the experience a happy one. Offer reassurance. "You're doing a great job." Continue to offer encouragement. Doing this will help decrease tension, fear, and embarrassment.
Prepare for Success
It is helpful to start the bathing experience by having them use the toilet before getting into the shower or bath. Doing this allows time to empty their bladder, as well as giving you the chance to remove their clothing while they are sitting down. Use care when transferring into the tub and be ready to give assistance. Assist by holding their weak side if they have one. Have them step into the tub using their strong side.
Allow them to wash as they are able and assist when needed. Explain what you are doing before doing it. Use gentle pressure when washing, don't scrub. Pay close attention to those hidden areas like skin folds, the area beneath the breasts, tummy folds, and genitals.
Break the job into smaller, simple tasks. Instead of saying "take a bath," you may need to say "wash your face, wash your arms," etc. Give simple choices; "Would you like to wear the green dress or the red one?" Give simple instructions. The person with dementia will usually only remember to do the last thing you say. If you give several instructions at the same time, it will only be confusing. Keep it simple.